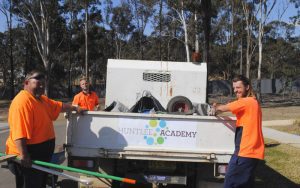 As Huntlee grows, so does the workload for our yard maintenance team who have been busy looking after the gardens for home owners.
We undertake regular residential yard maintenance as well as one off yard tidy-ups in Huntlee, North Rothbury, Branxton and surrounding areas.
Work may involve:
whipper snipping/edging
mowing
weeding/weed spraying
fertilising and
irrigation.
All work is conducted under the watchful eye of of our professional horticulturalist and at low rates.
If you don't have the time to do the mowing, or need someone to keep your yard tidy while you are away, Huntlee Academy can help.
Contact Belynda on 4938 2172 or 0429 580 283 to find out more.